Join the community you wish you knew about years ago
Elevate your career while connecting with women just like you
Our membership is rooted in education, networking and female empowerment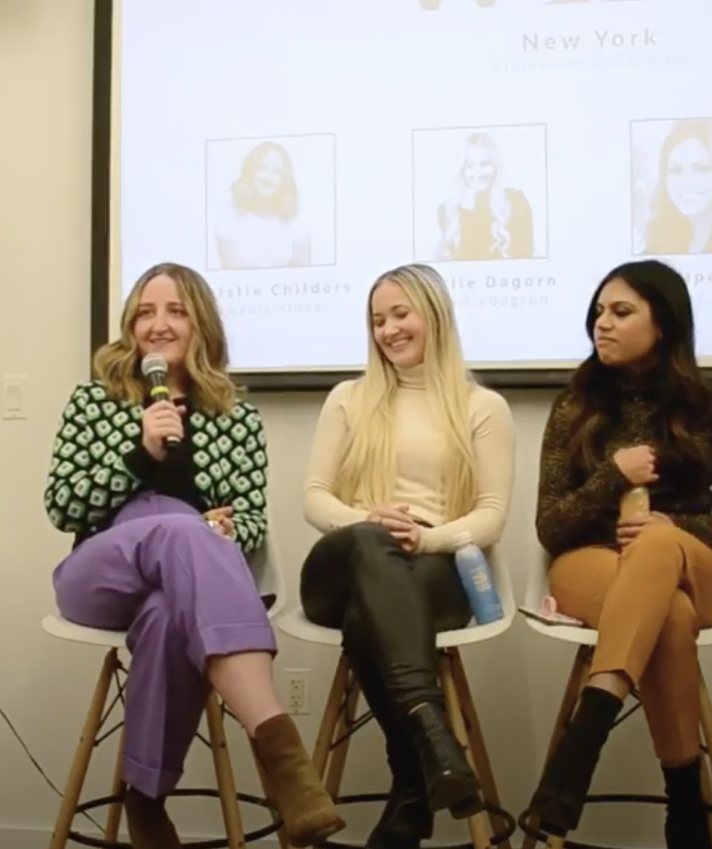 Community
Access to a who's who in
influencer marketing
Mentorship
One to one sessions with
top voices in the industry
Career
The best way to hire from the most qualified and targeted pool of influencer marketers
Executive Circle
Opportunities tailored to more senior members of the industry
Preferred Pricing
Exclusive discounts to industry partners from tools, services, conferences and more
Education
Live events, masterclasses and on-demand replays
Membership Directory
A powerful search tool to connect and collaborate with other leaders in the industry
Exposure
We'll spotlight your accomplishments to the WIIM community
Which membership plan is right for you?
"WIIM is a consistently helpful resource – from in depth podcasts revealing a peak behind the curtain of different roles and female powerhouses to discovering new talent and ways to approach influencer marketing through the FB group. Their events, both in person and virtual are always a must attend!"
"If I hadn't used WIIM, I wouldn't have found [Whalar]. I utilized the WIIM website to find jobs through the job listings and discovered so many influencer marketing companies. Anytime I was in an interview, I would typically be asked "How did you find this role/company" and I'd always talk about WIIM helping me find the role and how I enjoyed the community/resources it offers. Typically those who were interviewing me are well aware of WIIM, so I'd like to think that helps gauge interest in interviews and elevated my resume."
"I'm incredibly grateful for the WIIM community. It's such a supportive group of women. Not only have I made a number of connections that have led to partnerships, but FabFitFun has also made a few key hires from this group. This has been my go-to forum for industry insights, conversations and knowledge shares, especially since we're in such a niche industry. Can't thank [them] enough for creating this community!"
"I've loved using WIIM to do recon on the business --- I've posted several times about companies I was looking to interview with or do business with and have always gotten honest and incredibly helpful feedback from the women in the community."
"Since I joined WIIM, it has become a valued, everyday resource. They run a structured and safe place for women of all walks of the industry to connect on job opportunities, influencer discovery, and important social topics. Through WIIM, I've taken on freelance work, expanded my network, and even recorded a Podcast episode on the WIIM channel."
"WIIM has been a great resource for me in so many ways - it helps me keep up with the latest in the industry, network with my peers, and find great leads for career/client opportunities."
"I have to tell you, our year wouldn't have been the same without you! It's been amazing to watch the community you created grow and become ever more relevant. I can't tell you how often we're in a meeting and someone will say, "let's go check with the WIIM ladies, bet they'll have an answer"!

We've learned a lot, made great hires, and felt supported throughout the year, and I just wanted to be sure you knew how much we appreciate you!"
"Just got the results of my first casting with WIIM and I have to say, if you're on the fence about paying for membership, it is absolutely worth it! As someone who primarily represents talent these days, I knew WIIM was a great space to submit my talent but as an agency owner who only works on the brand side sporadically, this is SO much better than paying for other pricey platforms.

Jessy sent me a really nice video overview to explain how everything works. Most of the talent I submitted was spot on for my campaign, and my team is thrilled to reach out to the agents and managers that submitted great talent!"
"WIIM has been such an important part of my career over the past few years. The value I have experienced from this group is truly immeasurable. From tricky last minute castings to gut checking a trend in the Facebook group, I know whenever something stumps me or I need a second opinion my first place to go is my WIIM fam. Jessy has created a community of smart, savvy and confident women who are dominating their own careers while helping other do the same. I am so lucky to be part of this amazing group!"
"WIIM has been a valuable resource for connecting with freelancers to help support our team. Two freelancers expressed interest in joining the team permanently and we were able to make that happen!

Thank you WIIM for providing opportunities for industry professionals to connect, learn from each other and work together! Thank you WIIM for helping us grow our team!"
"We ended up using about 40-50% of the talent [shared via WIIM Cast]. We had multiple rounds of list revisions with the client, so it was great to have these additional talent options to add in, along with the rationale. Overall, we have had success with the WIIM Cast and look forward to using it more!"
"After being laid off at the end of March, another member told me about this group. Every day since I've been so appreciative of this group. I've taken advantage of networking and landed a part time position from one of the members posts in this group!

So thankful ❤️"
"The WIIM casting system was SO helpful for a recent influencer campaign I did. It was so easy and saved a lot of time for finding influencers who were in a niche category. All of the responses were spot on with what we were looking for and we ultimately ended up working with one of the influencers in the submission."
"Looking for an experienced candidate in the influencer space can be tough! But posting on WIIM was a no brainer and delivered our best candidates BY FAR! Its such a fantastic community of industry experts and I would highly recommend it to anyone looking to grow their team for success in the world of influencer marketing."
"My agency recently posted a part-time, freelance job oppotunity to the WIIM group and received over 30 applications within the first few days. All of the applicants understood the space in different capacities and were eager to jump in, which was exactly what we were looking for. I found my hire quickly and will absolutely be looking to WIIM for future hiring opportunities."
"Joining WIIM was one of the best things I did for my career. The community is truly one of a kind. Through WIIM, I've learned so many tips and tricks about influencer marketing, made business deals, and even landed my current role through the Mentor program!It's an incredible resource, and I highly recommend membership to everyone I know that works in our field."
"The team at WIIM was a pleasure to work with! They have built such an incredible network of talented women in the influencer marketing field. If you are looking to reach potential candidates in this space, I definitely recommend advertising with them!"
"WIIM is such a great resource for all things influencer marketing. When hiring an influencer campaign manager, WIIM job listings brought in several very strong candidates. We ended up hiring a WIIM member who is great! Definitely recommend."
"I have to say - this is by far the best money spent and best group I've ever been part of. I'm learning things I didn't even know I needed to know and connecting with such a wonderful group of incredible, like-minded women. I'm particularly loving your "what talent managers need to know" series."
"To put it simply, this network of women has been career changing. From the Facebook discussions to Clubhouse chats and Webinars, I've learned SO much. Best of all, I've had so many business opportunities that came directly from WIIM.Love this group!"
"This group has connected me to so many amazing women but has also led me to a few key hires for our agency including our amazing Marketing Director and Senior Account Manager, who is overseeing our largest account."
"My team at Google was very pleased on time for our recent product launch; and being able to beta test the WIIM casting portal really saved us. Thanks Jessy Grossman and everyone else we got to connect with that's in this group as well!"
"WIIM's casting system was so easy to use and you could tell the talent submitted was well-thought-out, and high quality! We ended up partnering with about a dozen of creators and think they will be a great addition to our influencer marketing program."
"[The WIIM member] who is running the campaign has made it so easy - she gets influencer marketing - 0 hassle just doing everything to make sure my client is happy. She gets it and has made the process so easy."
I'm excited to share that today I started at Shine Talent Group as a Talent Manager!

I am beyond grateful to get back into the influencer space and help talent reach their full potential. If you know anyone ready for management, don't hesitate to reach out!

Also, so thankful to WIIM for creating opportunity for women in the industry to connect as I would never have discovered this position without the community around WIIM!
"The WIIM casting platform is amazing! It's a great way to be notified of upcoming brand campaigns and a useful networking tool to get aquatinted with new agencies (and familiar face too)!"
"WIIM has been such a boost for me personally and professionally! Within a few days of becoming a member, I was able to network with several people in the industry and gain mentorship along with long-lasting relationships. Everyone is extremely supportive and friendly which makes it easy to love the collective.

I can easily say that WIIM has put me several miles ahead of where I was several months ago, in a matter of weeks. I can't thank Jessy enough for creating such a safe space for women in this industry to learn, grow, and support each other!"
"Seeing a crop of young women coming into their own and being able to mentor or advise is a true highlight as an industry expert. I've also learned a lot from them too!!"
"I posted on WIIM that I was looking for a job and I was so surprised with all the opportunities available! I finally landed one at an amazing agency. Thank you WIIM for being such an amazing resource for opportunities, building connections, and education."
"The women of WIIM are remarkably collaborative and supportive. I've met so many brilliant women who are focused on furthering ideas and progress, all without a hint of competition!"
"I was thrilled to be able to find a candidate who was already in the WIIM community. It shows that she is smart and engaged with current events and proactive in learning all she can from WIIM's tremendous resources and community. She's been an incredible hire!"
Ready to uplevel your career?